2021-22 Year in Review
NYC Outward Bound Schools celebrates 35th anniversary as school year comes to a close
For the past three and a half decades, NYC Outward Bound Schools has pivoted to meet the changing needs of our schools, students and educators — and this year was no different.
The 2021-22 school year saw the return to in-person learning after two years of hybrid and remote school. For educators in New York City, this historic transition back to the classroom presented an opportunity to reimagine existing structures to ensure all students were engaged and supported, and to make important steps toward educational equity. For us at NYC Outward Bound Schools, this meant helping our school partners re-engage and rebuild strong school communities centered around belonging.
July 1 marks our 35th anniversary as an organization. As we celebrate, we honor the past — the strong foundation of expertise that has led us this far — and look toward the future, ready to continue this critical work with new, innovative ideas.
In This Article
Click on a link to jump to the section:
Crew Initiative Launches in Partnership with the Department of Education
Thanks to a $1.575 million grant from the City, NYC Outward Bound Schools kicked off its very first Crew Initiative cohort in October 2021, representing the largest expansion of Crew programming to date. With tailored one-on-one support from our staff, 49 schools worked on building the capacity to implement, refresh or revision Crew — NYC Outward Bound's signature advisory and community building program — in their school communities this year. Crew Initiative also created camaraderie and a shared sense of purpose among educators from across the city who participated.
The Initiative centered around building belonging in schools that demonstrated a need to reengage their communities post-pandemic. Why belonging? Research shows that students who feel they have a voice in school are seven times more likely to be academically motivated than those who feel they do not.
We look forward to continuing this work in the coming year with the support of a renewed $1.6 million grant from the City and funding from private partners including Bloomingdale's, Tiger Foundation and New York Community Trust.
Hear from our Crew Coaches and Crew Guides about the process of working together during year one of Crew Initiative.
By the Numbers
Nearly 10,000 students across the city were impacted by Crew Initiative this year.
Celebrating the Return of In-Person Field Programming
September marked the return of in-person field programming, and this year, NYC Outward Bound Schools staff tailored sessions specifically for students returning to their school communities after two years of hybrid and remote learning.
The "Crew Connect" and "Community Connect" programs were born out of a need to keep students socially distanced while providing authentic opportunities for them to get to know their peers, their schools, and the larger community.
The spring ushered in the grand reopening of our climbing wall, as well! In total, our instructors facilitated an incredible 85 programs this year. 
By the Numbers
6,117 students and educators were served through field programs this year.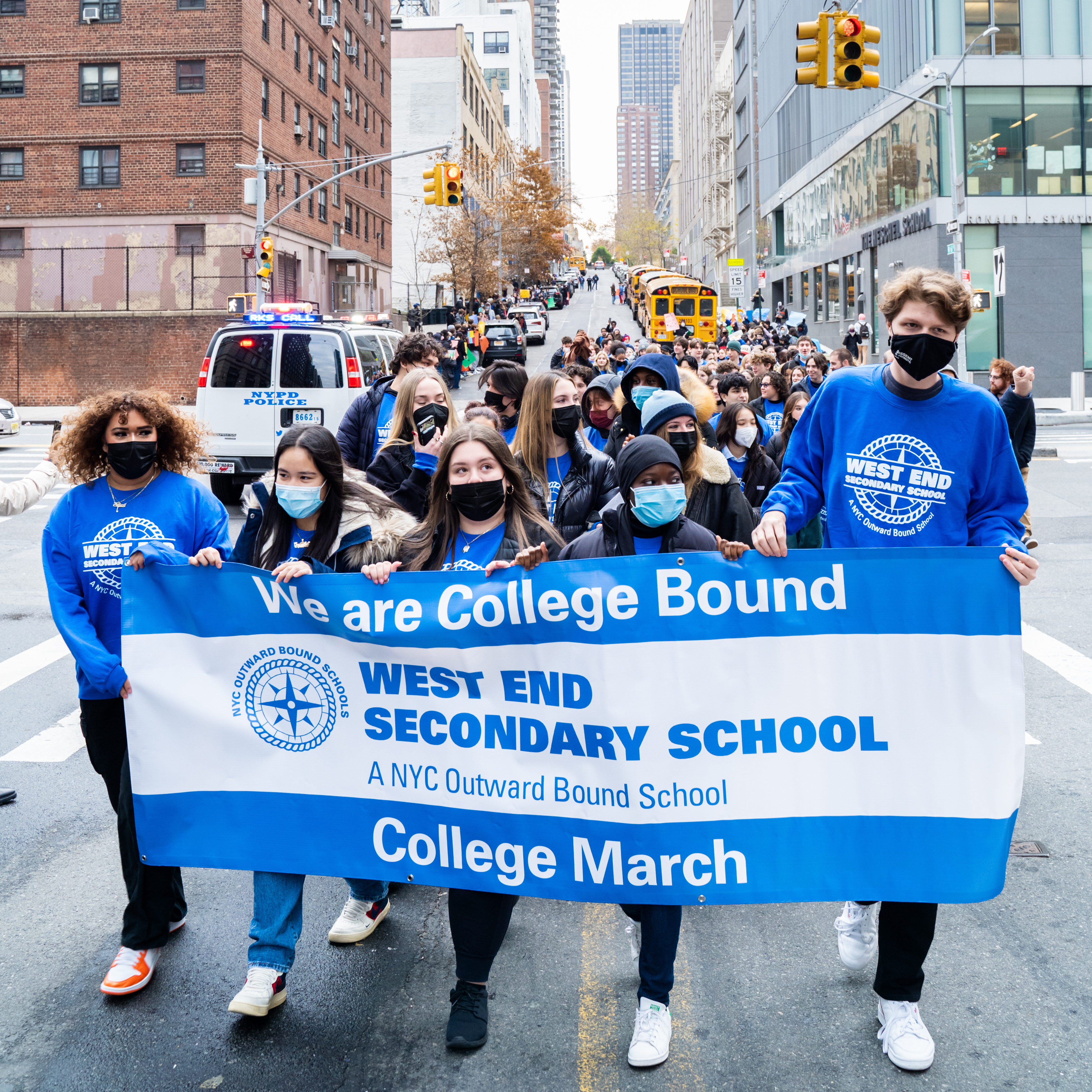 The 11th Annual College March
More than 2,200 seniors from across the NYC Outward Bound Schools network and beyond marched the final pieces of their college applications to post offices and mailboxes on December 10, as the College March returned to an in-person format for the first time since 2019.
The event was an emotional experience for this year's seniors who were just sophomores when the pandemic started. Two network schools — the Institute for Health Professions at Cambria Heights and West End Secondary School — celebrated their very first College Marches!
This year, graduates from our schools will be heading to colleges including Columbia, Cornell, Hofstra, Howard, Ithaca, NYU, Pace, St. John's, Vassar, and Wesleyan, as well as the full range of CUNYs and SUNYs.
By the Numbers
2,250 seniors from 25 schools in 10 cities around the country participated in the 2021 College March.
Students Explore Career Pathways
This spring, NYC Outward Bound Schools hosted or facilitated several events that introduced career opportunities for students considering various post secondary pathways.
In February, to celebrate Black History Month, Launch co-hosted a Black Futures Career Panel for 8th graders, holding space for an engaging conversation with six Black and Latino professionals in careers ranging from law to photography. Several of the professionals are also part of or connected to the NYC Outward Bound New Leaders junior board.
In April, the Post Secondary Success team hosted a virtual Career & Technical Program fair, connecting students from across the network with automotive, technology, and medical training programs, among others.
Thank You To...
Several of our long-standing corporate partners who volunteered with us this year:
Salesforce

O'Melveny & Myers

AIG
Capital One
Peer Leaders Program Expands
This spring, the Peer Leaders program expanded to include six alumni who work with five network schools. Through this program, our Post Secondary Success staff trains a team of our alumni who are currently enrolled in college to act as mentors and provide peer support to younger mentees during their senior year of high school and first year of college.
This year, the Peer Leaders conducted in-person workshops to support smoother matriculation to college this fall. A pair of Peer Leaders worked together to reach out to directors of Higher Education Opportunity Programs (HEOP) to better understand the academic range of their programs and help our students with their "best fit" college lists. And in June at our annual Senior Meet-Up, Peer Leaders helped support and connect students to others across the network who are taking similar post secondary pathways.
Many thanks to our Peer Leaders Maleka Stewart (Channel View), Katelyn Riley O'Connor (Channel View), Stiven Vasquez Nunez (Brooklyn Collaborative), Andrew Wong (MELS), Mamona Sajid (Leaders), and Jah-ni Fleary (Kurt Hahn).
Thank You To...
Our Post Secondary Success funders:
Reisenbach Foundation
Capital One
The Carroll and Milton Petrie Foundation
Heavenly Rest Church
Sixth Annual Gun Violence Walkout Follows Tragedies in Buffalo & Uvalde
Each year at Launch, an NYC Outward Bound middle school in Weeksville, Brooklyn, 7th graders participate in a 6-8 week interdisciplinary case study on disrupting gun violence in their community. This learning expedition requires students to analyze the topic through various lenses within their reading, writing, social studies, art, science and math classes. To culminate the expedition, Launch students work with community partner Save Our Streets Brooklyn (S.O.S.) to organize and stage a gun violence walkout that engages the local community. The march felt particularly relevant this year, coming shortly after the tragedies in Buffalo and Uvalde. 
The Period Project Takes Off
Four 8th graders at MS 839, an NYC Outward Bound middle school in Windsor Terrace, Brooklyn, kick-started a school-wide campaign to provide feminine hygiene products in all of the bathrooms and help erase the stigma of shame over menstruation. Over the course of two years, the project has expanded well beyond MS 839 through viral social media posts and a GoFundMe campaign, and the students have helped other schools start their own Period Projects. Anika, Sadie, Mimi and Barra, the students behind the operation, applied for and received District Council Participatory Funding. In the fall, they will work with council members in their district to plan and deliver workshops about The Period Project to students around the city.
Visit The Period Project's website to learn more, support the effort and get involved.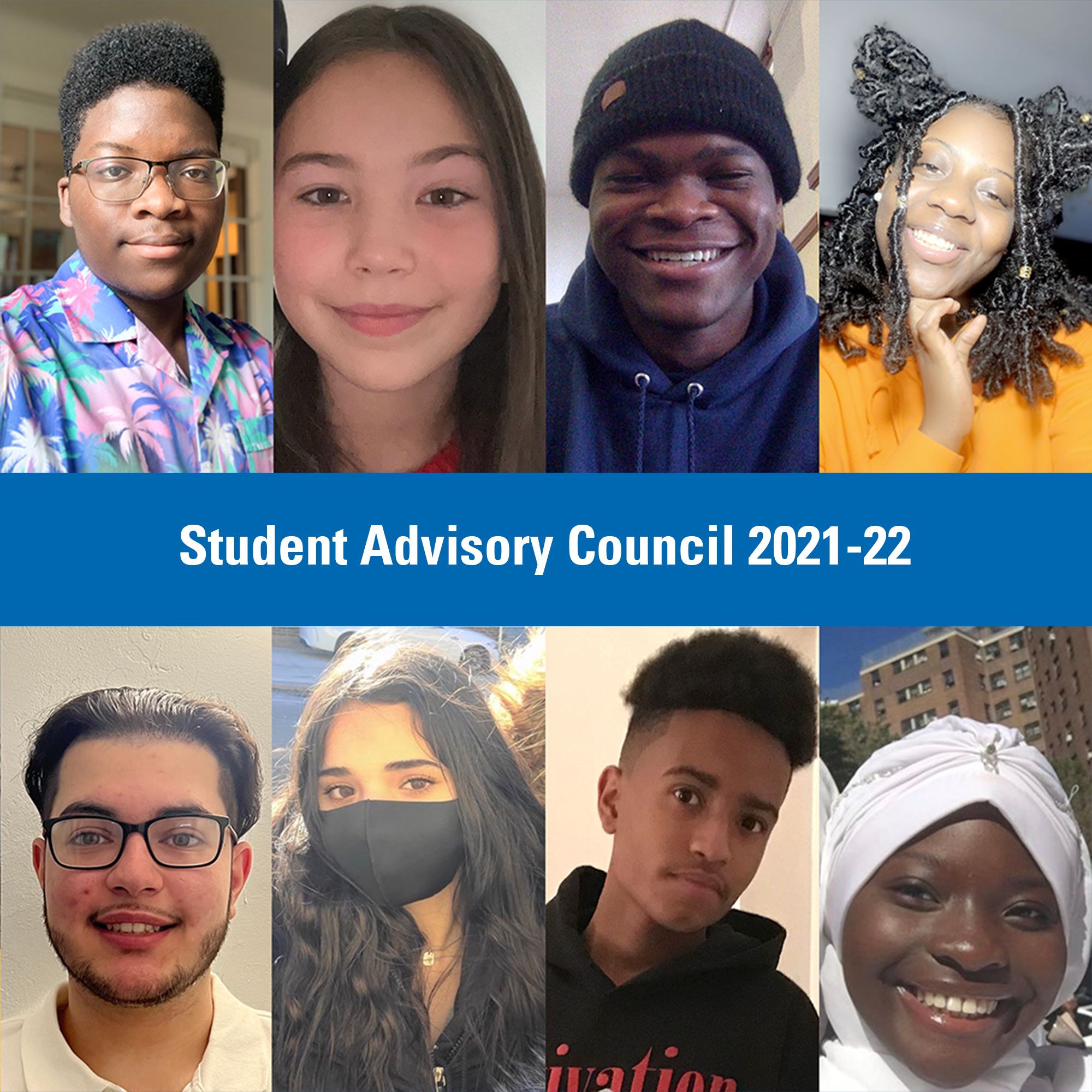 Student Advisory Council Advocates for Network Needs
For the second year in a row, NYC Outward Bound Schools facilitated a Student Advisory Council comprised of several students from across our network. This group gathered throughout the year to advocate on behalf of their peers and offer different perspectives on student needs to help improve the network as a whole. This year in particular, the Student Advisory Council was instrumental in providing feedback on our Theory of Impact, discussing what belonging means, and identifying what is most important about Crew.
Many thanks to our 2021-22 Student Advisory Council members Angel Caceres (WHEELS), Djeneba Aicha Sanogo (West End Secondary School), Ife Toussaint (Leaders), Lookman Mustapha (IHPCH), Marcus Hopper (West End Secondary School), Miriam Muntasser (Leaders), Nora Kovacevic (MAELS), Tailan Hamilton (Launch),  Saniyah Barrett (Launch), and Summer Johnson (MAELS).
Leaders' Dana Nelson Wins Gaynor McCown Excellence in Teaching Award
This year's R. Gaynor McCown Excellence in Teaching Award was presented to Dana Nelson, a 12th grade humanities teacher at Leaders High School in Bensonhurst, Brooklyn. Dana was chosen from a talented group of educators from across the network for her dedication to her students — namely, for helping to ensure that her diverse class of students always feel represented and seen in the curriculum. She has helped foster an environment where students are comfortable and prepared to engage in college-level discussions with their peers.
Dana has also been instrumental in helping to shape Leaders' Performance-Based Assessments (PBATs) and implement a restorative justice program at the school.