Community-Building Programs for Late Summer & Fall 2021
Re-engage Your School Community with Half & Full-Day Programs
Beginning on August 24, 2021 and continuing throughout the fall, NYC Outward Bound Schools will lead half- and full-day, in-person community-building programs for students and staff. These socially-distanced programs are designed to strengthen community, belonging, collaboration, reflection and leadership skills while acknowledging the challenges participants have faced as a result of COVID-19.
Community-building programs are ideal for helping youth reconnect with classmates (and in some cases, connect in-person for the first time) in the late summer and early fall when students will be returning to their schools. Community-building days are available as half-day (2.5-hour) programs outside on school grounds and as full-day (5-hour) programs offsite in a city park.
Community-Building – Half-Day
This 2.5-hour program is available to middle school students, high school students, and adults (staff). These programs will take place on-site at the participating school, in a school yard or other outdoor space. If you would like to book multiple sessions with different grade levels or Crews, these can be scheduled back-to-back within a single day.
The focus of this program is to foster relationships among participants and create a stronger sense of belonging within and connection to the school community. A team challenge helps build collaboration skills and gives students a chance to try different roles in a safe group setting.
Maximum 180 participants per day (90 in the morning, 90 in the afternoon).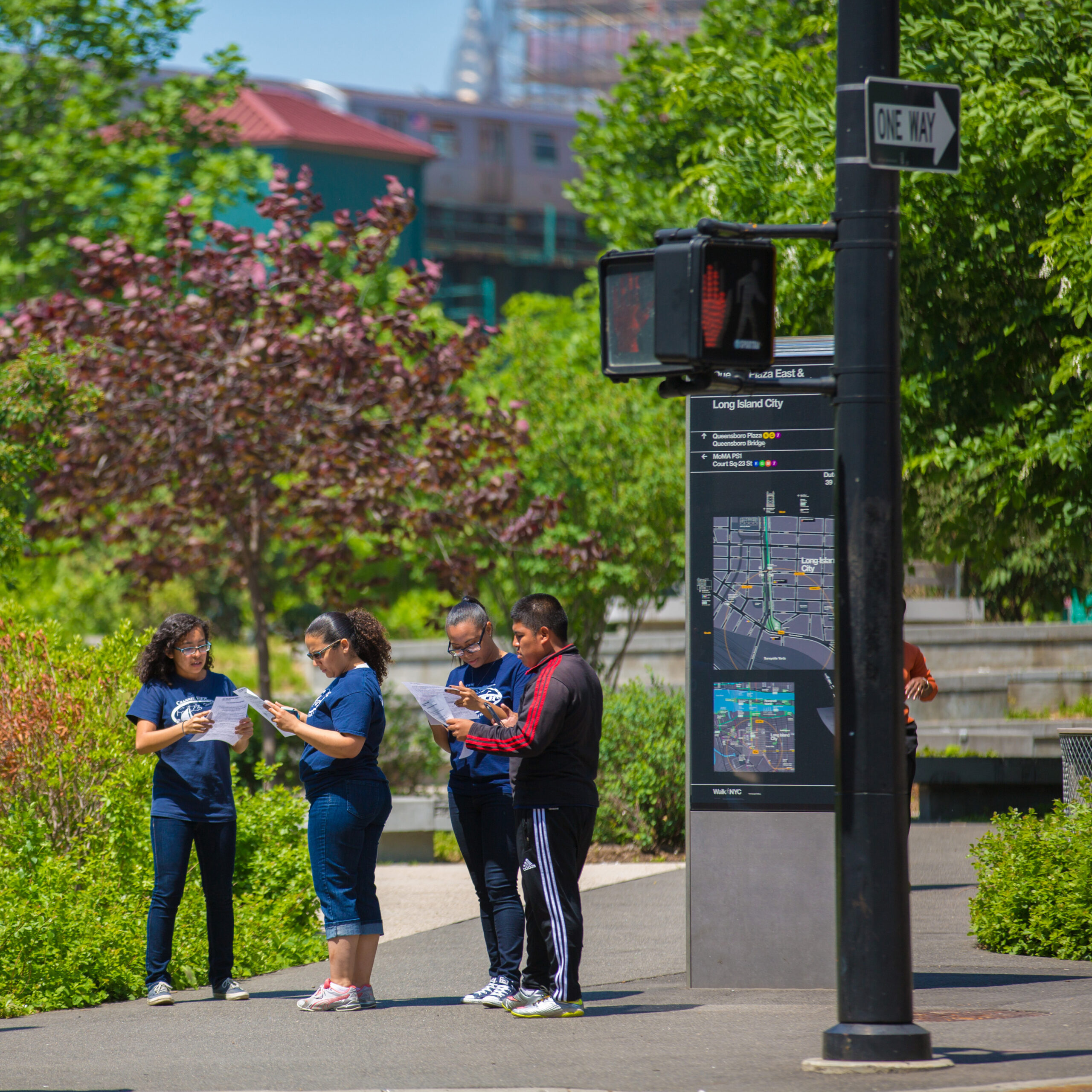 Community-Building – Full-Day
This 5-hour program is available to middle school students, high school students, and adults (staff). These programs will take place at large parks around the city (e.g. Central Park, Prospect Park, Flushing Meadows).
The full-day program is centered around a student-directed learning exploration that allows students to build a sense of belonging within their Crew, collaborate with one another, take initiative, and exercise ownership over their learning, all while igniting joy for adventure and discovery. Using the city as a classroom — by taking opportunities to have meaningful and genuine social interactions, learning about the landscape's history, and understanding one's connection to the larger community — is a key part of what makes the NYC Outward Bound experience so unique and hands-on.
Maximum 90 participants per day.
What Sets These Programs Apart?
The Crew Structure
These community-building programs are ideal designed for schools that have an intact Crew structure, which is the signature advisory model at every NYC Outward Bound School, but can be adapted to fit schools that do not have an existing Crew program. During these programs, small groups of 10-15 students ("Crews") will learn how to utilize and build upon each other's individual strengths so that they are stronger as a group — fostering the "Crew Not Passengers" mentality early on in the program. Participating in team building and story-sharing exercises as part of a Crew is the foundation to building respectful and trusting relationships with peers.
Our Instructors
Our facilitators are trained in social distancing protocols and will be staffed two instructors per Crew of students. They are skilled in working with youth and facilitating fun getting-to-know-you activities, team building challenges, story-sharing protocols and other initiatives that foster a safe and brave learning environment.
The Outcomes
Our community-building initiatives challenge participants to make decisions and work collaboratively to meet a set of goals. Working through these situations, some of which may be outside of students' comfort zones, leads not only to a stronger sense of belonging within the group, but also an appreciation of one's own strengths and capabilities. Participants will walk away from community-building days feeling energized, more connected with and empathetic toward one another, and empowered with the social-emotional tools to take care of themselves and those around them.
Learn More
The half- and full-day community-building sessions are sold as separate programs that can be purchased individually or as a package. If purchased together, the half-day session should take place first so that the skills and mindsets needed to build stronger communities are in place before the full-day session.
For more information or to book a program, contact:
Jessica Bardy, Director of Business Development
[email protected]wardbound.org
Office: (718) 706-9900 x130 | Mobile: (917) 575-7400
Run your own community-building program
NYC Outward Bound Schools is offering a one-day Train the Trainer-style workshop on Community-Building on 6/23 and 6/24. Both sessions will be held from 9am-3pm at West End Secondary School (WESS), located near Columbus Circle. Registration will be capped for each session to abide by social distancing guidelines.
Throughout the day, participants will experience community-building activities and initiatives through the lenses of participant, teacher, and trainer of teachers. Activities and initiatives are designed to be conducted in-person but with social distancing and other COVID-19 safety protocols in mind.
The cost is $300/participant, and can be paid for out of 2021-22 budgets, regardless of which session participants attend.