Facilitating Through a Screen: Learnings from a Virtual Expedition
By: Aileen Soto
Aileen Soto is the Staffing Manager at NYC Outward Bound Schools and also an alumna. She manages the organization's field instructors and has spent several years leading outdoor field programming, including NYC Outward Bound School's signature adventure and team building program — Crew Expedition Fieldwork.
This spring, Aileen was part of a team tasked with developing and executing NYC Outward Bound Schools' first-ever Virtual Crew Expedition for sixth grade students at WHEELS, our Network School in Washington Heights.
When I think back to my time at Sharpe, our wilderness basecamp in Fishkill, NY — in a pre-covid world —  I remember the feeling of hearing "BUS!" and seeing the bus full of our students roll up the hill entering Camp ABC where we led our Crew Expedition Fieldwork programs. I remember being excited, nervous, anxious, feeling prepared and unprepared all at the same time. I remember the long days of prepping with my co-instructor, designing a course to hopefully provide an unforgettable experience for our students. I remember how powerful this program was and the impact it had on our students — stepping out of their comfort zones, facing personal fears at the high ropes course, and building stronger relationships by working together at the challenge course. Seeing each student grow from the experience is the reason why I love this work!
I have been facilitating and leading outdoor expeditions for seven years, and I never imagined living in a time where I would be directing a course for students through a computer screen. When I first learned that I would be part of creating and facilitating our first Virtual Crew Expedition for WHEELS, I was excited and a bit skeptical. I thought, "How can we possibly create an experience where students are getting to know each other, bonding, working together and having fun, VIRTUALLY!?"  The thought of even trying to replicate an experience that happens in the wilderness through a computer screen made me both uncomfortable and excited to take on the challenge. 
Our design team met for two hours a day, twice a week for three weeks leading up to the start of the course. After a needs assessment with WHEELS, we learned that attendance and engagement in virtual Crew sessions was lacking. We spent hours creating lessons and activities that were focused on community-building, teamwork and celebration. We made sure to perfect our sessions by running practice sessions with staff who were not part of the creation process and gathering feedback. After hours of collaborating and designing, we finally created a virtual expedition and were ready to meet the students!
On May 18, 2020, we launched our first Virtual Crew Expedition. The expedition consisted of six Crews in total, and each instructor pair managed two Crews. I remember signing on to the Zoom call for the first time with a familiar feeling — I was nervous, anxious, excited, both very much prepared and unprepared at the same time. It was as if a bus full of students was rolling up at Camp ABC. The feeling caught me off guard because I didn't imagine that I would feel that way in a virtual setting. It was five minutes past the hour, and little by little the students started to log in. Three students kept their cameras on while the rest kept their cameras off. They all used the chat. At first, it felt like I was talking to myself most of the time. Once my co-instructor and I realized that students were participating, just not in the way we expected — we ran with it! 
We designed a program that mimicked an in-person expedition as creatively as possible — we used Zoom break-out rooms to give students one-on-one spaces to conduct interviews with each other; in lieu of an in-person scavenger hunt, we asked students to take pictures of items in their homes; there was even an opportunity for an Outward Bound "solo" using Google virtual hikes, and of course, a virtual campfire on our last day of celebration. 
Virtual facilitation, for me, is a new learning space worth engaging in because of the impact and effect we saw on our students. Here are my major learnings and "pro tips" for virtual facilitation:
Here are 10 major learnings and "pro tips" for virtual facilitation:
Planning and creating

a virtual experience takes a lot of collaboration from a variety of student-facing staff. Our team consisted of staff who have worked first-hand with our students and understand their needs.

Zoom is imperfect:

Zoom is not compatible with all devices in a way that will allow for full participation and impact. For example, Zoom has limited features for Chromebook users, and the majority of our students use Chromebooks provided by the DOE. We worked on finding ways to make our sessions inclusive and equitable by providing activities that all students were able to participate in.

Zoom App

looks different on all devices. Test out all activities with multiple devices to learn what is possible when using a phone, iPad, tablet, Chromebook, or desktop computer.

Camera on vs camera off:

Don't force students to turn on their cameras or shame them for choosing not to. You never know what is going on behind their computer screens. Meet the students where they are and trust that they will participate. Allow students to find a comfortable space during this uncomfortable time we are all living in.

Embrace the silence and the chat box: We found that students used the chat box as their preferred way of participating. There were plenty of times when we would pose a question to the group and would be met with silence. Once we realized that students were participating through chat, we embraced it and read the chats out loud for the group.
Time flies when you are having FUN!

Time goes by fast in a virtual world. Our sessions were only an hour long and I wished we had a little more time for more activities and participation. I would recommend 1.5 hours for sixth graders and 2 hours for older students.

Games, Games, Games:

There are so many great games online that you can play via Zoom — Scriblio, free "Escape the Room" challenges, Kahoot!, etc. Students love games and participate in them. We found that Zoom is no different than in-person when it comes to playtime.

Polls:

Students LOVE polls! We used polls to ask "would you rather" questions and to have students answer questions related to their learning targets. Polls are a great way to measure how students met the learning target for the day.

Be you — all of you — and just have fun:

It's only a moment in time (literally) that you are facilitating. Just have fun. Even with all the cameras off and the participation through chat, facilitating the WHEELS program was one of my best experiences so far during this pandemic. Students feed off your energy as a facilitator. Don't take it personally when students aren't actively participating as they would in person — they hear you and are into the experience even if it seems like you're just talking to a black screen!

The "BUS" feeling still exists!

 I didn't expect to feel a sense of attachment towards the two Crews of students I worked with. I didn't expect that the Crews would feel much closer to each other after a week of one-hour sessions per day. On the last day of course, we had a celebration where students facilitated a game for the rest of the Crew to play and read a campfire story over our virtual campfire. We asked the students to either say or type some of their takeaways from the week, and one that stood out to me was,

"I never thought I would be closer to my Crewies even without seeing their faces."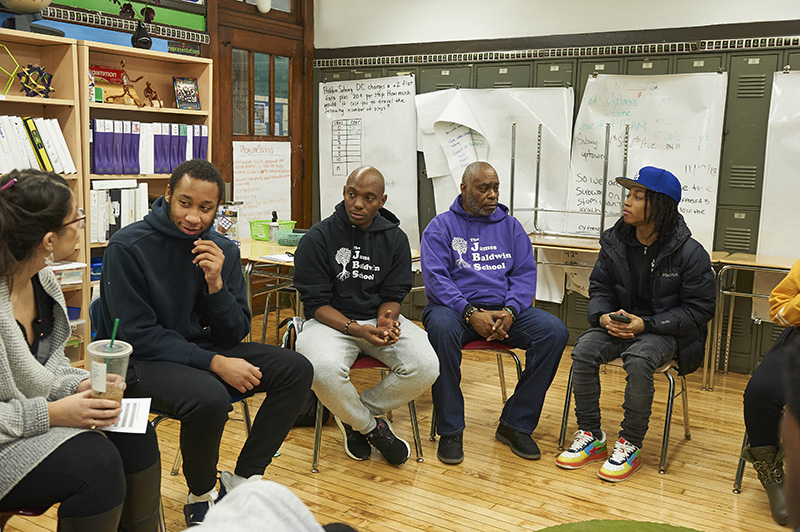 WHAT IS CREW?
Crew is the signature advisory structure at all NYC Outward Bound Schools, and provides essential social-emotional support for students. Crews are made up of 10-16 students led by an adult Crew Advisor, often a teacher, and meet frequently — sometimes daily — at our schools. Many Crews stay intact throughout a student's middle or high school career. 
I was skeptical about this virtual experience in the beginning, but in the end, we were able to achieve our goals of increased attendance and engagement. Working on the WHEELS Virtual Crew Expedition made me realize that as a facilitator, you can still provide the experience needed for students to bond, work together, celebrate and have fun! It just takes a lot of collaboration among individuals with different perspectives, time to practice your Zoom skills, and the confidence that you as a facilitator can still impact lives, even through a screen. 
On our last day, as our students voiced their goodbyes and signed out of Zoom for good, I could've sworn I heard "BUS!" once more, as each square disappeared on our screen. I miss the WHEELS Crews that we worked with that week. I've learned so much from the students and it gave me hope and made me believe even more in the power of virtual facilitation during an uncertain time. 
I never thought I would be closer to my Crewies even without seeing their faces.
WHEELS Sixth Grader