Principal Coleman Says School Community Served as Lifeline During Pandemic
The following is excerpted from a virtual panel discussion "SEL & School Reopening: A Student-Centered Approach," co-hosted by NYC Outward Bound Schools and The Urban Assembly. In this excerpt, Veronica Coleman, principal at Kurt Hahn, a NYC Outward Bound School in East Flatbush, Brooklyn, discusses how the strong relationships that her teachers had formed with students pre-pandemic worked to their advantage when learning shifted online. This transcription has been edited for clarity and length.
We spent a lot of time building relationships with young people before the pandemic happened. From day one, we put our teachers as case managers for every single one of our students, and they were the ones who had all the contact information. If the contact information wasn't available in [our database], you could bet that a teacher knew how to get ahold of a parent, how to get ahold of a student, how to — if the phone kept disconnecting — reach a student through another student.
Our school is in East Flatbush. I was calling it the epicenter of the epicenter. As a school with nearly 100% Black and Brown students, we really saw the impact that coronavirus had on our community and the disproportionality therein. In our daily morning circles with staff, we shared news around the students who needed our support because they had a family member who was sick. By May, we had six young people lose parents and over 20 students lose a close relative (an aunt, a grandmother). It was very, very, very devastating, and those Crew relationships, those teacher-student relationships that we had built before the pandemic happened, became the cornerstone of the work that we did going forward. 
We did outreach every day. The work that we were doing academically was important but was not nearly as important as making sure that we didn't lose track of any students — that we knew what was happening, what kind of support they needed, what kind of support their families needed. We reached out to parents when there was a loss in the family, and just reassured them that we were not going to let their young person fail the semester because of this hardship.
It was a full team effort. We shifted our whole academic approach to a much deeper, more project-based, more interdisciplinary approach. It was an opportunity for us as a staff to come together and to think creatively about what it is that young people want to be learning right now in the midst of a pandemic, and — after George Floyd was murdered — in the midst of an uprising. And we made sure that we did not waste young people's time with anything that was not going to be empowering to them in that context.
As far as our approach for September, I would say that it starts with the adults. We've been building community as adults first so that we have the model we can use to build community with young people. We're there to support one another. And just to be frank, this is a very trauma-inducing situation for everyone involved — young people, for sure, but also adults — principals, staff and teachers experience trauma, too. We've been focusing on building relationships among ourselves and how to translate that into supporting and helping young people to get through this time.
And if we're going to support each other emotionally, we can also support each other academically — with vertical planning, with interdisciplinary projects, we can co-plan together on a daily basis so we can support the same group of students with projects that are aligned. This way, our students will have less to worry about, and can go deeper and think more critically. To have staff members and teachers be able to rely on each other, they have to trust each other, and when they have those strong relationships, then they can support students in a more cohesive way.
When students see that teachers have been communicating, that guiding questions are aligned, and that ideas are building upon other ideas, I think they feel that they are being well cared for, because they're being well planned for.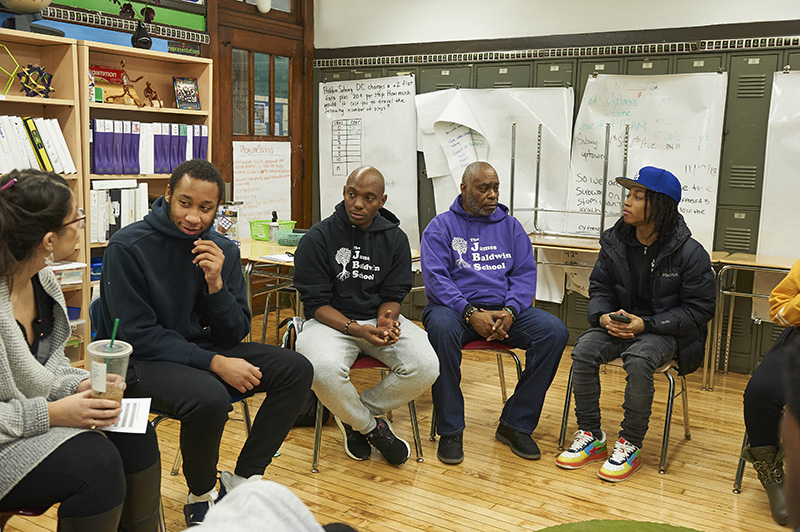 WHAT IS CREW?
Crew is the signature advisory structure at all NYC Outward Bound Schools, and provides essential social-emotional support for students. Crews are made up of 10-16 students led by an adult Crew Advisor, often a teacher, and meet frequently — sometimes daily — at our schools. Many Crews stay intact throughout a student's middle or high school career.