Remembering Greg Farrell
In Memory of Gregory R. Farrell (1935-2020)
The following is excerpted from a reflection by Richard Stopol, President & CEO of NYC Outward Bound Schools.
Greg lived a life that was filled with adventure, purpose, and accomplishment. He leaves behind a coterie of Greg Farrell acolytes, which includes me along with hundreds of others who he inspired, supported and mentored, and who loved him deeply.
Greg played a seminal role in the history of our organization. Indeed, if NYC Outward Bound Schools has a founding father, it is Greg Farrell. It was Greg who had the vision of bringing Outward Bound to New York City and its public schools, and it was Greg who, in his capacity as the executive director of the Fund for the City of NY, acted upon that vision by bringing together a planning group in 1986 that began sketching out what an Outward Bound Center that was focused on bringing Outward Bound's lessons and activities to NYC's young people could look like. That planning group included Arthur Sulzberger, Bill Phillips, George Miles, Rochelle Evans, Bill Abelow and several other members of our founding generation to whom our organization owes its existence.
And when NYC Outward Bound was born in 1987, it was Greg who not only served as a founding Board member, but for all intents and purposes, was its first executive director, providing it with the credibility, direction and solid foundation it needed to get off the ground. Greg was also the person who first brought me into the NYC Outward Bound orbit (I was working for him at the Fund for the City of NY and he persuaded me to participate in the first course we ever ran in September 1987), and it was his faith in me and his unyielding support that made me feel like I had a chance of success when I took on the role of executive director in 1989. That faith and that support never wavered over the ensuing three decades and I count them among the most precious gifts that I have received in my lifetime. In the best tradition of Outward Bound, he saw more in me than I saw in myself.
After helping to start NYC Outward Bound, Greg went to work for Outward Bound USA in a new role that had him traveling around the country attempting to create other Outward Bound centers like the one that he had helped to bring to NYC and to steer Outward Bound back to its educational roots by following the model that had been established in NYC and bringing its pedagogy and activities into schools. That work led directly to the founding of Expeditionary Learning (now known as EL Education) in 1992 when Greg led a team from the Harvard Graduate School of Education and Outward Bound in crafting a winning proposal to the New American School Corporation, an entity started by President George H.W. Bush to create "break the mold" schools in the U.S.
The approval of the proposal led to Greg's being named as the founding President of EL Education (formerly Expeditionary Learning), a role he served in until he retired in 2008. It was a role that represented the fulfillment of a vision he possessed since the early 1960s when, as a young man who had served as a teacher and an admissions officer at Princeton, he went on an Outward Bound course in Colorado and came away from that experience asking why school couldn't be more like an Outward Bound course, with a premium placed on adventure, discovery, teamwork, craftsmanship, and the completion of challenging tasks that require the exercise of problem-solving and critical thinking skills as well as individual and collective best effort. That vision of what schools can and should be is now being brought to life in hundreds of schools across the country that incorporate the EL Education model, including those that are part of the NYC Outward Bound Schools network.
But for all his professional accomplishments, what best defines Greg Farrell and stands above all else is the quality of his character. He was, quite simply, an extraordinary human being, the rare individual who was equal parts wise, kind, funny, curious, empathic, gentle, and generous. Greg didn't just preach the values of Outward Bound, he lived them. And he also was the embodiment of the spirit of Outward Bound.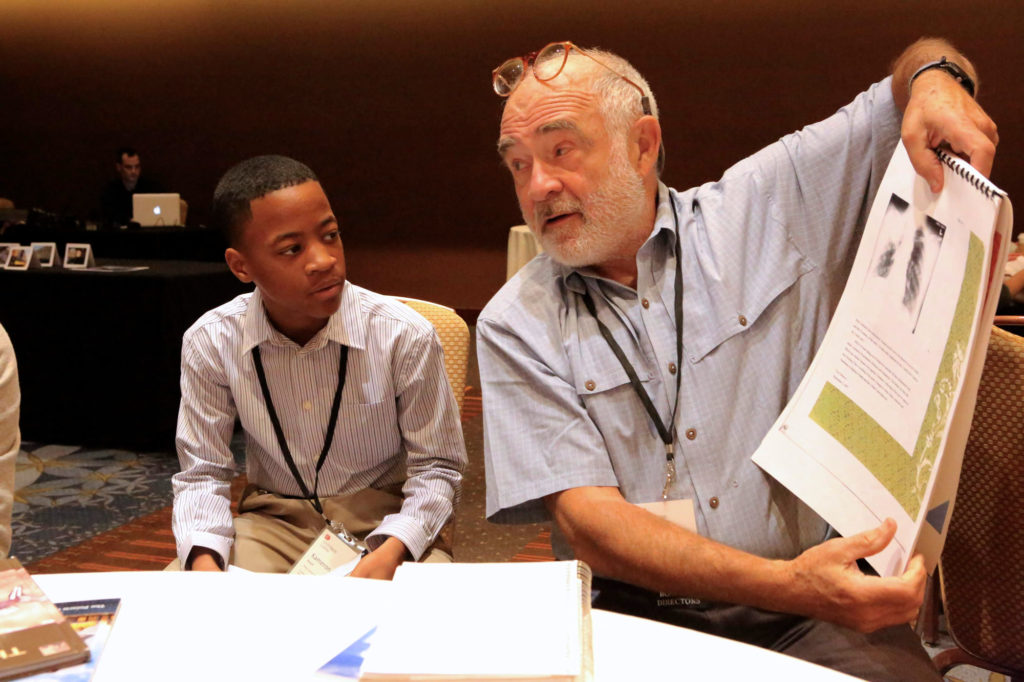 He didn't just go through life, he experienced it fully and zestfully, with a hunger to continue to learn, to grow, and to try new things. He didn't just interact with people, he embraced them fully, recognizing their strengths while accepting their foibles and always making them feel wanted and loved.  And in every interaction with Greg, what came shining through was his compassionate nature. When you were with Greg, you always knew that you were with someone who cared about you and would, without reservation, lend you a helping hand if you needed it. That compassion was never more evident than in the remarkable care he gave to his wife Cathy who had a 15 year struggle with Alzheimer's disease and who Greg lovingly and tenderly looked after as her primary caretaker until her death last year.
Greg was one of the few people I know who actually met Kurt Hahn, the founder of Outward Bound. He had dinner with Hahn sometime in the early 1970s when Hahn was visiting New York City. I remember Greg describing him to me as "courtly," someone who talked little about himself but was intensely interested in whomever he was with, asking probing questions of them through which he forged an intimate connection. Whether he realized it or not, in describing Hahn, Greg was describing himself. He too was a master of listening and of the gently probing question; someone who was genuinely interested in other people and who was genuinely convinced that there was dignity and worth, greatness even, in each person whom he encountered. The columnist David Brooks might well have been talking about Greg when he wrote this about the novelist E.M. Forster: "To speak to him was to be seduced by an inverse charisma, a sense of being listened to with such intensity that you had to be your most honest, sharpest, and best self." Perhaps Greg's greatest gift is that he helped so many of us tap into our best selves.
Greg Farrell was one of the best people I've ever known. In truth, I'd be hard pressed to name someone who I consider to be his match. As I write this, I am finding it impossible to contemplate a world without him. But I take solace in knowing that the world is so much better because of him and that each of us who had the privilege of spending time with him has been immeasurably enriched and will do our best going forward to honor his legacy.
Greg didn't just preach the values of Outward Bound, he lived them. He didn't just go through life, he experienced it fully and zestfully, with a hunger to continue to learn, to grow, and to try new things.
Richard Stopol
A quote from Greg's memoir, excerpted from The New York Times April 9, 2020 Tribute to Greg:
"In Outward Bound there are almost no lectures, you work in small groups and help each other out, you learn important things you never forget and that you can apply to new circumstances, you do things you think are impossible, sometimes with style, and the idea is to get everyone over the mountain rather than to see who can get over the mountain first," 
Submit a Tribute
Leave a message or memory in honor of Greg Farrell, and we will share these words with our community on this page. If you have any issues submitting the form, or want to submit a file or image, please email [email protected]
Greg was a great educator, totally dedicated to giving equal opportunity to all. EL is a great organization and there may very well not have been an NYC Outward Bound Schools without him. He was a wonderful man who has given a lot and who will be remembered and appreciated for a very long time.
Alexander Goren
Startling news and warm heart. Everything Peter said describes the man I knew. There are moments of learning from Greg to me that I use daily. Although since his retirement we only spoke briefly, I will miss knowing his light will be lost from those he spent time with on earth.
Gary B. Cohen
Its sad to hear, but I'm so happy that Greg found his niche and got to revel in it.  He and I had a good connection in the mid-70s and became quite close in the early 80s.  He was always regretting that he hadn't worked in Outward Bound and was driven to participate somehow.  It finally started to gel for him as NYC Outward Bound Schools evolved in the later 80s, like a kid finally beginning to catch up to his dreams. 
Greg was "heart" driven and struggled in the early 80s trying to fit in with the New York based business hot-shots on the nat'l OB Board.  He often confided that he felt like a fish out of water and other Board members didn't take him seriously because he wasn't as practical about business strategies or finance.  He was a late bloomer in combining his passion for OB with finding his place in it and it changed his life forever.   It was wonderful seeing his confidence grow as he gradually discovered that he could become a leader in NYC and still remain "heart-based".  He was one of the warmest men I've known on OB Boards and was always ready with a laugh. 
The last time I saw him was at a benefit banquet 3 years ago in NY and he quoted something I had shared with him 43 years earlier about when I lived with the Cree.  He LOVED simple connections and raw human experiences.  The world is a better place for Greg's active participation in it.
Ted Moores
Greg was of the finest people I have ever known. He embodied the tenacity of spirit and gentleness of leadership as if to make everyone feel as though Lao Tse was in the room….guiding people to their best Person. He also reminded many of us that the principle of experiential learning knows no bounds. His spirit, his KA, will live on for many generations.
Stocky Clark
Greg was special to Richard and therefore special to me. This is the way I knew Greg for over 40 years; I listened to his stories and heard his words on a variety of subjects through Rich. Then last summer, I stayed at his "Palace" above his beloved Yurts in the Adirondacks with Richard and the original NYCOB Staff for a reunion. This time, I got to know Greg for myself — brief but profound. He amazed me with his vitality, his twinkle of delight in everyone and everything. He personified the guru one wishes to learn from and emulate; A Friend for Life. To me, I experienced Greg as that kind of person who makes you feel the best of who you are and the better you can become. Yes, Greg was Special.
Carolyn Stopol
Greg was one of those rare and precious human beings who embraced Life with open arms, a curious mind, an adventurous spirit, and a generous heart.  Personally and professionally, he was a true explorer and creative innovator who seemed to see in every situation a chance to experiment, try out something new, think outside the box, connect 'this' with 'that,' delight in the possibilities.    He was a dreamer whose feet were firmly planted on the ground, a visionary who knew how to get things done.  As a doer, one important way for him was to work through other people, bringing out the very best in them.  So to me, one of Greg's most special gifts, his magic — something so many of us experienced firsthand and are forever grateful for — was his unwavering faith in others and uncanny ability to detect and draw out their talents (even well-hidden ones!).  We are all so much better for having known Greg.  May his bright twinkling eyes and beaming smile, his knowing chuckle and uproarious laugh continue to warm our hearts, lift our spirits, and light our way.  Safari salama, Greg.
Sanna Randolph Thomas
Greg was a very special man and I am thankful to have spent time with him. One thing I find very unique about him is the ability to become friends with countless generations. He is one of the few people who could meet anyone and immediately connect with them. He was very close with my grandfather, my mother and me. Three generations of people, and he was able to bond with all of us. One of the greatest memories I have of Greg is at Pantry Island in the Adirondacks. I was going through a dog phase, so we decided to drink water out of bowls like dogs. He also created the best club on earth, The Lime Club. Lime makes everything better. It all started when he told my brother and me to put lime on our ice cream, by far the best combination. I remember him making us members of the Lime Club. I've known him my whole life, and in those 14 years I've never met anybody kinder. He impacted so many lives, including mine. I feel so grateful to have had him in mine. Greg, you are deeply missed and will be remembered forever.
Maeve Larson
 In all my work, I strive to enable the inspired, creative, challenging, and fun learning environments that Greg championed. And in my personal life, he has set an incredibly high bar for what it means to live not only a good life, but a meaningful one. Click here for full tribute.
Paul Herdman
It was a great privilege to have had the opportunity to work closely with Greg for many years  as a member of the group which was planning and implementing  the creation of  NYC Outward Bound Schools. As I look back at that experience I have come to realize it was a highlight of my life, one that led to my involvement as a Board member and employee of  NYCOBS for over thirty years. It all started with a conversation instigated by  Greg  at a meeting of the National Board of which I had been a member for several years. The more I worked with Greg the more I came to appreciate his many talents and his dedication to the principles on which Outward Bound was founded and his unique devotion and dedication in putting them into practice. I regarded him as a dear friend, teacher and mentor and will forever be grateful to him for all that he taught me by his ability to lead by example.  I will surely miss him!
Bill Abelow
The world has lost a great man. Greg was always kind to me and I will remember him for that and for  his contributions to OB and the world. Rest in peace.
Trisha Nason Mark
When I was writing my grant to start a school back in the mid 1990's (ALPS, Which eventually became Channel View), Greg personally came out to my apartment in Far Rockaway to help me.  I certainly was inspired by him and his belief in the vision.  I was always thrilled to see him at the annual NYC Outward Bound Conferences, and yes, he had that special way about him that you knew he cared.  His legacy lives on in all the schools.
Pat Tubridy
Greg was a mentor, boss, friend and shining light for me at many times. He was the head of The Fund for the City of New York when I went there to take my first job. Gently—almost invisibly—he infused the whole organization with joy, imagination, friendship and the sense that we were doing something really important. He never micro-managed—he led. He had faith that we would have our own good ideas—ideas that might not have occurred to him—and that we would do our best.  And we did.
I next knew him when I did some consulting for Expeditionary Learning in its earlier years. He drove a few of us fellow New Yorkers up and back to the office up on the Hudson every day, and—beyond the thrill of working with him on a concept of learning that was so new and exciting and amazing—there was the thrill of spending a couple of hours every day listening to his stories while also having him take so clear an interest in whatever we were doing.
And finally, I knew him as a mentor for my daughter, who became a teacher in New York and (of course) went to work for an EL school. My clearest memory of him was when I once asked him—a man who really enjoyed eating meat—how he put up with the vegan cuisine at the yoga ashram where he periodically disappeared for weeks at a time. "Well," he said, "I…enjoy seeing what it's like to… live as a vegan. To be something I'm not, generally. To stretch things a bit." The world is wider, and brighter and our minds and lives have been expanded more than any of us will ever be able to express by a man who—wonderfully, magically—never stopped stretching his own boundaries.
Susan Leicher
Greg, you were a hero and mentor of mine for over 30 years, and will be forever. I and so many others will miss you but thanks to you thousands of students every day receive the type of engaging, rigorous and compassionate education all students deserve. And I believe the foundation you built for a more equitable and powerful approach to teaching and learning will eventually make its way to millions. Thank you!
Paola Vita
When I was a newly hired teacher for Bronx Expeditionary Learning School (BELHS), one of the first schools to open up with the initial grant money from the Bill and Melinda Gates Fund, Greg called me up. The school had not opened yet and I was still working all night at a popular restaurant in New York City. I remember answering the phone and being in awe that Greg called me up. He asked me if I would like to join him and Ron Berger who had just come into town. Being a bit in shock, I eagerly agreed. Greg picked me up at my apartment in Brooklyn and drove me and Ron to his house in another part of Brooklyn. Greg made us all lunch and we sat in the backyard of his house talking about what the Adventure Coordinator (the role I had been hired for) could look like. We talked about "Wellness Attributes" and what they may include. I remember being struck by Greg's willingness to learn together and ask questions. We spent the afternoon together and it is one of the formative experiences in my career.
Over the years that followed, Greg was always genuinely interested in how I was doing. He even invited me to his holiday party one year at his home. He walked me and my girlfriend at the time to the door and bid us farewell and relayed a time he had met Kurt Hahn and how he was impressed with Kurt walking him out and taking time to bid him farewell. Greg even invited me to his property in the Adirondacks once after not seeing me for a few years. It struck me that he lived and breathed the values of Outward Bound and EL Education. I aspire to impact my students the way Greg has impacted me.
Charlie Maciejewski