Program Cost: $5,500 per Crew
Note: We can work with a maximum of 5 Crews per program/15 students per Crew + Crew Leader.
Crew Basecamp
After a hiatus during the pandemic, we are thrilled to once again be offering 3-day/2-night trips to our basecamp in Fishkill, NY for Crews of Network School students! 
About the Program
Set against the beautiful landscape of Sharpe Reservation, this program begins at 10 am on Day 1 and ends by 3pm on Day 3. Lodging for students is at Camp ABC in the Bird House Villages (4 Bird Houses in a village, all in close proximity). Activities include:
Light day hiking
Low ropes courses
Evening activities – camp Fires, night hikes, star gazing
Camp craft skills – meal preparation under instructor supervision, navigation, "Leave No Trace" practices
Team building activities, problem solving & conflict resolution activities
Program Outcomes
Our skilled instructors foster environments that provide the ideal balance of challenge and support to help students:
Build a sense of belonging within their Crew

Step out of their comfort zones with courage, perseverance and assertiveness
Build confidence and self-esteem

Build self-awareness through reflection through self awareness

Understand social responsibility among a group of peers
What is Provided?
Course Director and instructional staff

All meals & snacks

Basic lodging

All activity equipment
Note: Transportation to and from Sharpe Reservation is not included. This must be provided by the client.
Paperwork Required:
Both Medical & Liability Release forms require parent signature and need to be submitted at least 3 weeks prior to the program start date.
Sample Learning Targets
I can participate in the activities, try new things and have fun!

I can learn new things about the other students in my Crew.  

I can practice being a good team-member by participating fully in the activities, to the best of my ability.

I can be a good leader by offering my own ideas and listening respectfully to the ideas of others during group challenges.

I can practice trust by relying on my peers, teachers and instructors during trust-building activities. Through my respectful and safe behavior, I will give others reason to trust me.

I can reflect on my experiences and think critically about how they apply to my everyday life at school or home. I will think about what I can do with what I've learned.
Common Outward Bound Practices:
Call and Response

Briefing & Debriefing 

Journaling

Conflict Resolution

Leadership Roles & Rotation

One Mic 
Sample Low Ropes Course Activities
Wild Woozy – Two participants, starting at opposite ends, attempt to cross a 30-foot-long cable hanging about 2 feet off the ground strung between two trees. The other team members spot the climbers as they make their way across the cable. 
River Crossing – The entire team must devise a way to get the group from one platform (about 1 foot off the ground) to another platform located about 20 feet away using just two boards. This initiative highlights the groups' problem-solving abilities, communication and response to a crisis. 
Spider's Web – The whole team must get through a human-sized vertical web without touching any strands. This challenge requires a great deal of trust and start-to-finish planning in order to be successful. 
Browse our other programs: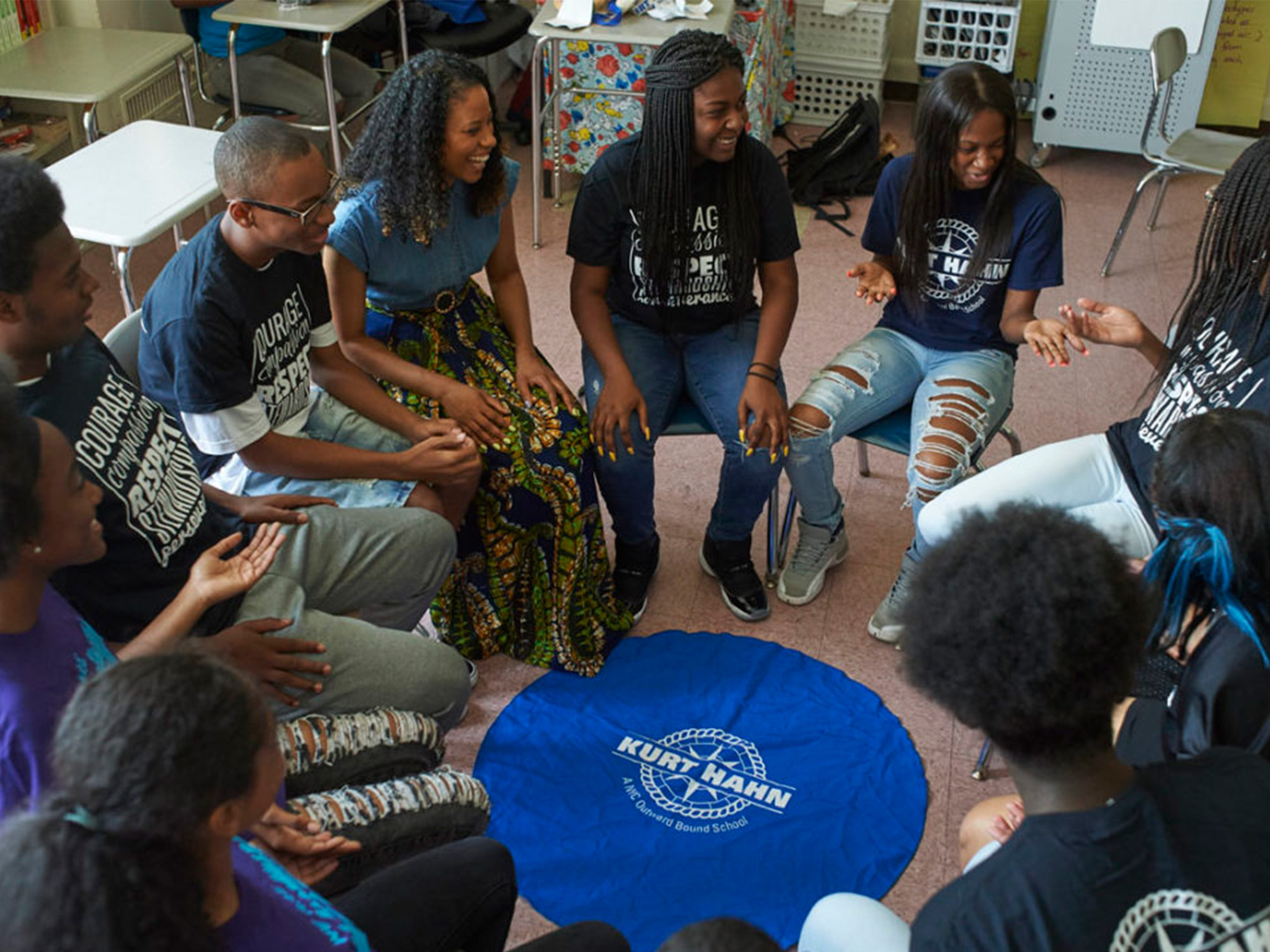 Full-Day Community-Building: Community Connect
This 5-hour program builds on the half-day experience and is centered around a participant-directed learning exploration that allows students and staff to build a sense of belonging within their school community, collaborate with one another, take initiative, and exercise ownership over their learning.
Half-Day Community-Building: Crew Connect
This 2.5-hour program helps foster relationships among participants and create a stronger sense of belonging within and connection to their team or Crew.
Crew Climbing
This 2.5-hour program helps participants step out of their comfort zones and develop focus, commitment, tenacity and trust as they scale the tallest outdoor rock climbing wall in New York City!
For more information, contact:
Badari Ambatti, Director of Client Relations
[email protected] 
Office: (718) 706-9900 x125