Virtual Learning Comes Alive in the MELS Library
Over the past month, students at MELS, a NYC Outward Bound School in Forest Hills, Queens, have met a video game expert, attended a comic book workshop with an award-winning writer and author, and held a private audience with two Broadway stars — all virtually, of course.
Learning at MELS hasn't stopped; it's simply adapted.
The mastermind behind all of these engaging virtual events is MELS librarian, Jillian Ehlers.
"My job has always been student-facing and in-person, so the shift online has been a new, exciting challenge," Ehlers says. 
When MELS closed its doors, Ehlers, a former English teacher, assumed her support would be needed in developing lesson plans and co-teaching with colleagues, but co-principals Patrick Finley and Damon McCord had other ideas.
Pat told me, 'What the school community could really use right now are the library events and activities that bring joy to kids,'" Ehlers says. "I liked the challenge, so I went home that night and dug into my human library."
What's a human library? Ehlers describes it as the network of people — friends, authors, community members and others — that she's met along the way in her 10-year career as a librarian — six of which have been at MELS.
Ehlers found that most people she reached out to were eager to help in any way they could, especially those who already write and create for kids. Greenlight Bookstore, for example, which usually runs the book fairs at MELS, is helping to arrange a virtual author visit next month.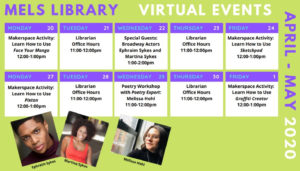 And special guests are only part of Ehlers' packed calendar. On Mondays and Fridays, she hosts a Makerspace workshop, which might include a lesson on how to use an app, like doodle software Sketchpad or Pixton, a graphic novel creation tool. On Tuesdays and Thursdays, Ehlers offers "office hours," — an open invitation for students to "stop by" with questions, suggest an idea for a workshop, or even just have lunch together. 
"I think it's good for schools to see the benefit of a librarian in this climate," she says. "We are so important, especially right now, with all the digital resources we have access to. I hope that people see the power of libraries in schools."
It's clear that her peers are taking notice. Ehlers was recently awarded the 2020 American Association of School Librarians' (AASL) Collaborative School Library Award. The national award recognizes an outstanding collaboration between a school librarian and a teacher on a curriculum-supporting program using school library resources.
Ehlers received her award for a Zine project that fell under the umbrella of a ninth grade learning expedition at MELS titled "Great Power, Great Responsibility." Working with Erin Hickey and Rachel Demalderis, Ehlers helped students create zines illustrating a volunteer day of service they were required to complete as part of the expedition. 
"As a school working to build strong interdisciplinary units and real-world experiences, Jillian's expertise has been invaluable and has supported curriculum development at MELS," said co-principals Patrick Finley and Damon McCord. "And now as our school has moved into the virtual realm, her efforts are even more needed — especially her creation of events that bring students to 'school' with excitement to participate in the remote learning forums she's created."
What's on the docket next? As National Poetry Month winds down this week, Ehlers is hosting a poetry workshop with expert Melissa Hohl, and encouraging students to play with their words in a way they wouldn't normally for a school assignment. 
"Our job as librarians is not just, 'Here's a book, read it.'" Ehlers says. "It's to make sure we're enhancing learning experiences for kids, to be advocates for our students, and to go out and find these opportunities." 
---