We are Crew: Support our Students & Schools
Your generosity helped us exceed $1.1 million in support! 
This spring, school doors closed and we were forced to cancel our gala. But our community — our Crew — met the challenge and helped us raise $1.1 million in support of our city's most vulnerable students. We couldn't do this work without you.
Together, we are helping to ensure that students across our network and beyond stay on track and continue receiving the education and resources that they need. We continue to help teachers and staff tackle new challenges that arise with virtual learning. Inspired by the words of Outward Bound founder Kurt Hahn, we choose to believe that "above all, compassion" will win out in these unprecedented times. And it is. 
Here's how we're continuing to help.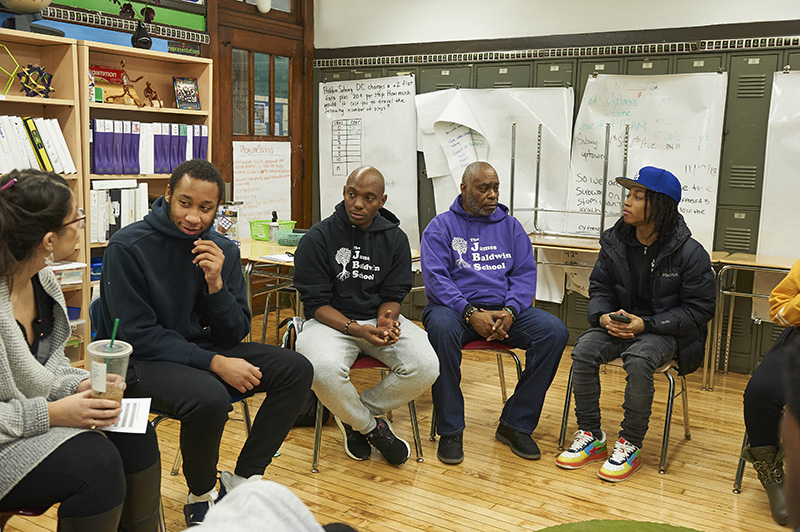 Combatting Social Isolation with Virtual Crew
To ensure peer support and teacher advising structures are uninterrupted.
Offering aVirtual Lifeline for Alumni
1:1 support as many must leave college campuses and transition to online learning.
Keeping Seniors on Track for College with Remote Supports
By giving college counselors timely resources and coaching.
Coaching Teachers & School Leaders
So online lessons are still deeply engaging, rigorous, and meaningful.
Chairs
Carole & Norm Barham
David Dase & Jacqueline Flake
Vicki & David Foley
John & Kiendl Gordon
Jeffrey R. Gural, GFP Real Estate
Alphonse Lembo
Pamela & Gifford Miller
Nancy & Burt Staniar
Arthur Sulzberger
Amanda Vaughn
Ginger & Geoff Worden
Vice Chairs
Charles and Karyn Bendit
Christopher Croft, Houlihan Lokey
Ravenel Curry
Patricia L. Francy
LaRue Gibson/LRG Wealth Advisors
Jane Greenman
Jonathan Miller, Miller Ryan, LLC
Lisa Moran & Scott Ainsbury
Suzanne and Ravi Yadav
O'Melveny and Myers has partnered with NYC Outward Bound Schools for many years, generously supporting our gala as well as our writing mentors program.
Blackstone has provided years of volunteer support and funding to all of our Network Schools, and in particular, to Brooklyn Collaborative, by helping 11th graders improve their workforce readiness skills.
Thank you to all of our generous supporters.
Innovators
Vicki and David Foley
Jeffrey and Paula Gural
Burt and Nancy Staniar

Champions
Carole and Norman Barham Family Foundation
Vicki and David Foley
John and Kiendl Gordon
Alphonse Lembo
Pamela and Gifford Miller
O'Melveny & Myers LLP
Leaders
Karyn and Charles Bendit
Chris Croft, Houlihan Lokey
Ravenel and Elizabeth Curry Foundation
David Dase and Jacqueline Flake
Mark Feldman/JPMorgan Chase
LaRue Gibson/LRG Wealth Advisors
Jonathan D. Miller
Pamela and Gifford Miller
The Muriel F. Siebert Foundation
Josh Struzziery
Suzanne and Ravi Yadav
Trailblazers
Elizabeth Beim
John and Mary Brock
Burch Family Foundation
Patricia & Alex Farman-Farmaian
Freshfields Bruckhaus Deringer US LLP
Goren Brothers
Jane Greenman
Bonnie and Brad Klein
Marla Lembo
Nick Lembo
Howard P. Milstein/Emigrant Savings Bank
Nuttall Charitable Fund
Brian and Erin Pastuszenski
Anna & Robert Sedgley Family Fund
Arthur Sulzberger
Robert W. Wilson Charitable Trust
Virginia H. and Geoffrey F. Worden
Expeditioners
Joan and Mark Abramowitz
Sheila Baird
Allen Burton
Allison R. Feldman
Tim and Elizabeth Mayhew
McGuireWoods LLP
Lisa Moran
William Moran
Sara Moss and Michael Gould
Mark W. Newhouse
Joel Perelmuth
Sanna Randolph Thomas
Stephen Sander
Richard and Carolyn Stopol

Partners
Georgette Bennett and Leonard Polonsky
City National Bank
Grubman Compton Foundation
Interpublic Group
Lee Robertson/1919 Investment Counsel
Schlosstein-Hartley Family Foundation
The Vinair Family Foundation
Friends
Laurie Abramowitz and Robert Doherty
Quemuel Arroyo
Frances C. Ashley
Mike Barone
David I. Berley, Walter & Samuels, Inc.
Charlie Boutwell
Len Camber Charitable Trust
Capalino + Company
Carol DerSarkissian
Jennifer and Derek Dillon
Olivia Douglas and David DiDomenico
Paul Herdman and Dana Balick
Everett and Margery Jassy
Robert M. Kaufman
Sanna Randolph Thomas
Konrad Schwarz
Marcie Setlow
Stephen Shepard and Lynn Povich
Ken Stein
Constance Stopol
Jenn Stredler/Salesforce
Amanda Vaughn
Alice and Filippo Vita
John and Catharina Webster
Carl Weisbrod
Lucille Werlinich

Stay connected to our community.
Social Dispatching
View videos, pictures and social media "dispatches" from students and staff around the NYC Outward Bound Schools network! Submit your own by using #SocialDispatching and #WeAreCrew.
Continue to support us as we embark on a school year filled with unknowns this fall.
If you would like to donate via check, stock, wire transfer or Donor Advised Fund, please use the form below and select the "Check or Pledge" button at the bottom. You will receive an email with further instructions. If you have any issues, please reach out to Beth at [email protected] or (929) 233-7831.