"I got this!" Summer Learning at Cornell University
An International Experience
Jenna will be a senior at Gaynor McCown, but she already has some college credits under her belt. She, along with four other NYC Outward Bound Schools students, earned scholarships to attend Cornell University this summer and took college-level courses with other high-achieving high schoolers.
Jenna elected Cornell's "Growing Up in a Digital Age" program, which explores how social media is affecting how people define themselves, and how it affects mental health, particularly for adolescents. In the class, she studied from traditional college textbooks, but also watched episodes of Netflix's "Black Mirror."
After her classes, Jenna spent nearly every afternoon in Cornell's Uris Library, reading and studying. She surprised herself with how easily she could manage the workload; after three years at Gaynor McCown, her study skills are excellent and helped her tackle the college-level expectations.
As much as she enjoyed the subject matter itself, Jenna also loved meeting all of the other students, who came from all over the world! "I had a friend from Macedonia, South Korea, Dubai, Puerto Rico, and Costa Rica!" She and her new friends took turns sharing cultural insights by hosting dorm room dance parties, where everyone learned each other's traditional dances, sharing favorite foods, and even swapping international playlists.
What's more, her experience at Cornell opened her eyes to the possibilities available to her after high school. She always pictured herself going to college near her home so she could continue to live with her family. But after a few weeks on Cornell's beautiful campus, living in the student dorms, and eating in the dining halls, she's reconsidering. "There's a sense of freedom . . . of being able to control my own time."
And after growing up in an urban neighborhood, she found she liked being part of a less urban campus "It was fun! We did a lot of walking, and bike riding."
Plus, she aced her classes! Now, Jenna knows that she can totally hold her own at an Ivy League school. "When I thought about applying to Ivy Leagues [before], I thought the classes might be too hard, I was a little bit scared. I didn't know if I could handle the work." But now? "I know I can handle it! I got 100 in the class! My GPA is 4.0 for college!"
The experience at Cornell also helped her reframe how she wants to approach her senior year: "I need to focus on myself [and stop comparing myself to others]." At Cornell, "I was around a new set of people and I felt more like my own individual." She feels more confident and has a "new form of self-respect. I got this!"
Finding A Voice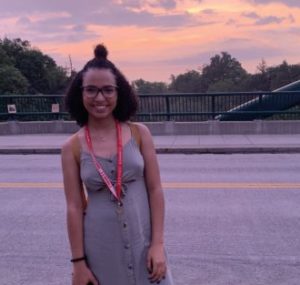 Yohely is a senior at WHEELS this fall, with more college experience than most! She spent last summer at Skidmore College, so when the opportunity to attend Cornell's summer program on a full scholarship arose, she jumped at the chance.
Yohely took International Relations, which looked at different ways of interpreting current events and challenged students to explore their own preconceptions. Coming off her Global History AP course, she was excited to learn about global politics and learn more about the history of other countries.
During the class, she read several New York Times op-eds, scholarly articles, as well as books like The Rise of the Virtual State by Richard Rosecrance, It's a Flat World, After All by Thomas Friedman, and The Pentagon's New Map by Thomas Barnett. And even after her rigorous AP class that spring, Yohely still had to adjust to the heavy workload. "We would do a week's worth of reading in a day!" she said, which sometimes felt overwhelming, even after her rigorous junior year at WHEELS.
Her other big challenge was confidence. Like Jenna, Yohely's classmates were from all over the world, and many of them had vastly different frames of reference for the news they were reviewing. "I felt like the work was very focused on Europe and Asia and the Middle East, and it was very hard to come into the classroom without knowing a lot of these things. Even though I did the readings, I didn't have a historical background," she said. Yohely was born in the Dominican Republic and has a pretty good understanding of Latin American cultures and politics, but was far less comfortable weighing during discussions of Asian, European, and Middle Eastern history and topics.
Even though this frustrated her, it also helped her clarify what she wants from her college experience: a diverse campus with access to a supportive Latinx community; in other words, she wants both challenge and support. "I know that when I'm looking at college now, I'm thinking: do they have a club for Latinx, do they have a house where you can stay with people who are Latino?" But despite struggling to find her voice, she still loved the Ivy League experience. "I do matter and I do deserve to be in those places!"
Big thanks to our college counselors for supporting our students through the application process, to Cornell University's PreCollege Studies program for providing such incredible experiences for our students, and to Board Member David Dase for making these scholarships possible.