Learn More About Our Impact
Spotlight on Sedina Montoya
Sedina Montoya is a Humanities, Literacy and Language teacher at MS 839, a NYC Outward Bound School in Windsor Terrace, Brooklyn. Sedina was honored with our 2023 Gaynor McCown Excellence in Teaching Award. Watch this video to see her work in action — both in the classroom and beyond the walls of MS 839, through fieldwork.
South Brooklyn Community High School
South Brooklyn Community High School is a transfer school in Red Hook, Brooklyn. Read more about how integrating Crew has helped them empower students to set academic goals.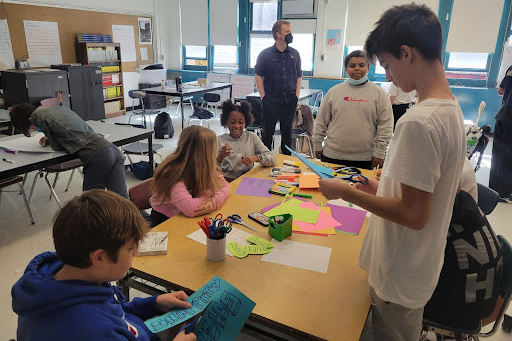 NYC Lab School for Collaborative Studies
NYC Lab School for Collaborative Studies is a high school in Chelsea that is utilizing Crew, or "Family Circle" to help students better feel a sense of belonging in the school community.
MS 419
As a brand new middle school, MS 419, a Crew Initiative school in Northern Corona, Queens, is using Crew structures and routines to make the school community a place where all students feel they belong.
Roles of a Crew Advisor
Two of our Crew Coaches — Jonny Soto-Altrogge and Hannah Read — and several Crew Initiative partners star in this instructional support tool around the roles of a Crew Advisor. These roles include: tending to a safe and brave space, being a facilitator, fellow Crew participant, teacher, accountability builder, coach/mentor, and advocate, creating schoolwide connections and upholding school values.
SEAD in the Outdoors & the Classroom
Take a closer look at what social, emotional and academic development (SEAD) looks like at NYC Outward Bound Schools and how skillsets developed in unlikely places transfer into the classroom. In this video, we follow students from Brooklyn Collaborative Studies at their Crew Basecamp camping program upstate and back to school where they are tasked with a challenging academic project. 
Sharing our Practices: Change Packages
Our first published Change Package is focused on Increasing Student Voice. Students want and need to feel like co-creators of their own learning trajectory. Student confidence and leadership both grow as their voice is heard and valued. By giving Students specific ways to practice using their voice, schools can be one place where students feel safe, receive feedback, and grow the skill over time.