Crew Climbing
Climbing is back! This 2.5-hour program is available to middle school students, high school students, and educators and school staff, and takes place in Long Island City.
Outward Bound has utilized climbing as an educational experience for over 60 years. Participants discover the importance of focus, commitment, tenacity and trust by learning how to balance on steep faces, pull through overhangs, and practice belaying their peers. Our skilled instructors review knots, rope systems, and movement techniques before climbers begin to ensure that the experience is safe and fun for all participants. This program is a great opportunity for students to support their fellow Crew members outside of the classroom!
Pricing: 
$1,000 – up to 15 students
$1,200 – up to 20 students
Paperwork Required:
Complete and turn in NYC Outward Bound Schools' Medical Form and Liability Release at least three weeks prior to your program date. The medical form does not require a doctor's visit. NYC Outward Bound Schools reserves the right to deny or restrict participation in whole to anyone who does not submit a completed form or meet the screening criteria.
Sample Learning Targets (Youth)
I can be a good leader by offering my own ideas and listening respectfully to the ideas of others.
I can demonstrate appropriate safety practices for rock climbing and explain some basic techniques.
I can learn about climbing techniques.
I can practice trust today by relying on my peers, teachers and instructors during trust-building activities and by belaying others. Through my respectful and safe behavior, I will give others reason to trust me.
I can set a goal for myself about what I'd like to achieve at the climbing wall. I can give others permission to encourage me to go farther.
I can reflect on my climbing experience and think critically about how it applies to my everyday life at school or home.
Sample Agenda
Welcome! Participants arrive on-site.
NYC Outward Bound Schools instructors lead a quick round of icebreakers.
Instructors fit each participant with a harness and helmet for climbing.
Participants are split into belay teams, receive a climbing/belaying demo, and learn a few climbing basics.
Crews climb, climb, CLIMB!
Participants wrap up by sharing takeaways and completing an evaluation.
Browse our other programs: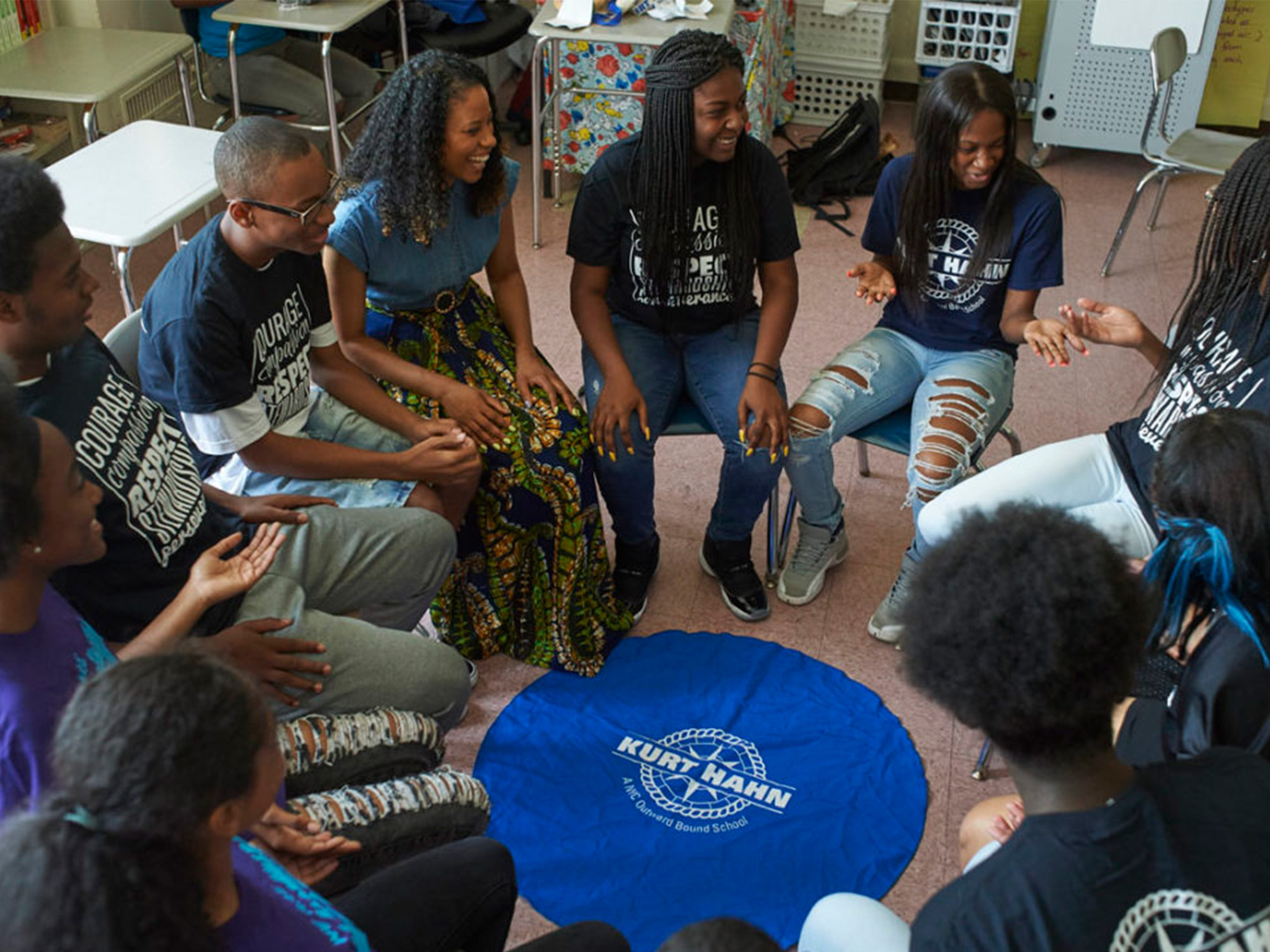 Full-Day Community-Building: Community Connect
This 5-hour program builds on the half-day experience and is centered around a participant-directed learning exploration that allows students and staff to build a sense of belonging within their school community, collaborate with one another, take initiative, and exercise ownership over their learning.
Half-Day Community-Building: Crew Connect
This 2.5-hour program helps foster relationships among participants and create a stronger sense of belonging within and connection to their team or Crew.
For more information, contact:
Badari Ambatti, Director of Client Relations
[email protected] 
Office: (718) 706-9900 x125