Teaching after the Parkland Tragedy
Like many schools around the country, students and teachers at West End Secondary School were devastated by the tragic massacre at Marjory Stoneman Douglas High School in Parkland, Florida, in February. This latest shooting represented a milestone for American educators and students, triggering fervent and vociferous student response and propelling young people into the center of a national conversation.
As students from Parkland began to organize, the students and families at West End Secondary started to reach out to Assistant Principal Becca Tatistcheff and the rest of the staff to ask, "How can we participate?" School leaders, teachers, counselors and school staff asked themselves, "Should we respond in the classroom? If so, how?" Even the students — West End Secondary serves 6th, 7th, and 8th graders — were knocking on Tatistcheff's door asking about how to support — and be supported by — their school community.
After several discussions with her fellow educators, and some brainstorming with student leaders, the school leaders and staff agreed that the school must respond in a meaningful way, and fast. "Our role is to help students make meaning of this," Tatistcheff said.
The school sprang into action, pulling together a seven-day Parkland case study, which teachers would launch in each grade. The overarching learning target was two-fold: by the end of the case study, student would be able to describe the different perspectives within the #neveragain movement, sparked by this latest violence; and students would have developed a personal and informed point of view on the movement.
To kick off the case study, students determined classroom norms to ensure that everyone felt respected while discussing such a controversial topic. Then, students in each grade watched Parkland student and activist Emma Gonzalez' moving speech and call-to-arms, and discussed the ways in which she motivated her fellow students and challenged lawmakers. By the end of the day, students were able to describe how and why Parkland students were calling for a national day of participation on March 14, and express their own opinions about the message.
During the next six days of the case study, 6th graders focused on civic participation, learning about past protests and demonstrations from around the country, and discussing the strategies different groups use to organize and mobilize large groups of students.
7th graders dove deep into the history of the first and second amendments to the Constitution, and explored the many different perspectives on each, even challenging themselves to argue against their own belief in classroom debates.
8th graders spent the week looking at international gun control, including researching the NRA and learning about recent legislation promoted by both supporters and detractors of gun control.
As the case study wrapped up, students had the opportunity to present their learning to peers from other grades, acting as "subject matter experts." Students got to report on what they discovered, but also share their own opinions, now newly informed and thoughtfully developed.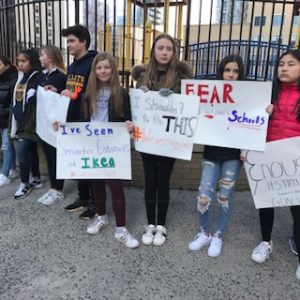 The case study concluded on March 14th, the same day as the National School Walkout. Students were given a choice of civic engagement: kids could participate in a student-led walkout, or they could remain in class to engage civically in other ways, from calling a senator, to writing the President, to creating a video about their learnings that week.
Many students chose to walk out, lining both sides of Amsterdam Avenue for a full block, and displaying handmade signs and messages in solidarity with the Parkland students, and students nationwide. Parents who had come out to support their children stood apart, at the students' request, letting the students fully own their movement during the 17 minutes of silence to mourn the 17 most recent victims of school violence.
While students at West End Secondary are returning to regularly scheduled lesson and curricula, they're calling on their new knowledge of civic engagement to further take ownership of their education, community, and character development.